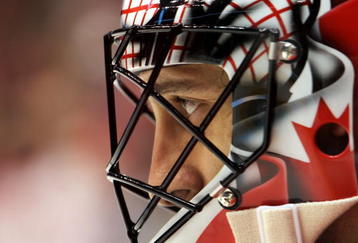 People ringing up, making offers for my life.  But I just wanna stay in the garage all night.  We're a garage band.  We come from garageland.  -The Clash
Public Service Announcement:  Ok, here we go!  I'm not gonna go into detail here about yesterday's game.  I'n not gonna go into detail here how Sid the Kid, the Next One, blessed be he, the flag bearer for the new generation of Canadian superstars, got the winner winner chicken dinner in overtime.  I'm not gonna quote JFK and write something like:  Let the word go forth from this time and place, to friend and foe alike, that the torch has been passed to a new generation of Canadians.  The torch has been passed from Rocket Richard to Orr to Gretzky to Lemieux to Sidney Crosby.  Nope.  Not gonna do it.  Not at this juncture.  Instead, I'm merely gonna share with you a fun little stat.        
Roberto Luongo did not play his best game yesterday.  With 25 seconds left in regulation, he nearly had defeat snatched from the jaws victory.  But, like my main Derek Sandersen always says, "If I play badly I'll pick a fight in the third, just to get into a fight.  I'll break a guy's leg to win, I don't care.  Afterward I say, 'Yeah all right I played badly, but I won the fight so who gives a damn."  With the help of Sidney Crosby, Roberto Luongo won the fight yesterday.  So who gives a damn?
Roberto Luongo wins a lot of fights.  He especially wins a lot of fights at General Motors Place.  That's the Garage to you.  For those of you at home who only watch olympic hockey, you might know it as Canada Hockey Place.  You know, the place where Luongo won his fight yesterday afternoon.  Luongo has won 87 regular-season NHL games at the GM Place since joining the Canucks back in 2006.  That's a lot of wins.  The only goalie with as many wins in one building as Luongo at the Garage is Miikka Kiprusoff who has posted 89 victories at the Pengrowth Saddledome.  But you saw what Kiprusoff did.  He's no Roberto Luongo.  Luongo's got prospects.  He's bona fide.  What are you?
Public Spectacle:
Peace out homies.  Six two and Even!
Need More? NHL,Olympics,Roberto Luongo,Vancouver Canucks