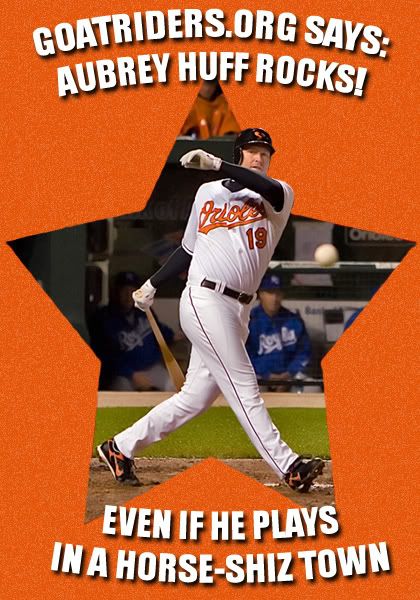 Well we're movin' on up to the East Side, to a deluxe apartment in the sky.  Movin' on up to the East Side, we finally got a piece of the pie.  -Jeffersons
Public Service Announcement: Ok, here we go!  Well it couldn't have happened to a nicer guy.  This guy has had it rough.  Had it tough.  Life, not a cream puff.  Not for Aubrey Huff.  Think Bad Luck Schleprock, that hapless little fella from the Pebbles and Bam Bam Show.  When Aubrey was just six years old, his father was shot dead attempting to take away a gun from a man who had just shot his wife.  Egads man!  Talk about bad luck.  The baseball stuff is baby stuff compared to that stuff.  This is the baseball stuff:  Aubrey Huff has hit 200 bombs in his Major League career yet never sniffed the playoffs or an All Star game.  Like Red Buttons, he never got a dinner.  Christopher Columbus, who said to Queen Isabella, "No, you got it wrong!  The WORLD is round.  YOU're flat!"  Never got a dinner! 
Only two players that entered the Major Leagues in the last 75 years hit at least 200 career home runs, but never got a dinner.  Never played in either a postseason game or an All-Star game.  Only Rob Deer (whose final season was 1996) and Bad Luck SchlepHuff.  But, like my main woman Maya Angelou always says,  "If one is lucky, a solitary fantasy can totally transform one million realities."  Aubrey Huff was just traded from the last-place Orioles to the first-place Tigers.  The Detroit Tigers may just be Huff's solitary fantasy that will transform his reality.
Peace out homies.  Six two and Even!
Need More? Aubrey Huff,Detroit Tigers,MLB