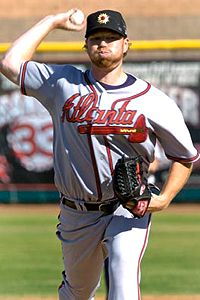 Johnny come lately, the new kid in town.  Everybody loves you, so don't let them down.  -Eagles
Public Service Announcement:  Ok, here we go!  Rookie rookie, who gets the cookie?  Tommy, that's who.  Tommy's the big winner.  Tommy wins.  Atlanta Braves rookie Tommy Hanson's been winning a lot lately. Yesterday afternoon, against my beloved Red Sox, Tommy Hanson threw six shutout innings and was the winner winner chicken dinner of record.  Hooray Tommy Hanson!  After a no-decision start in his big-league debut, Hanson has won four straight starts.  If that weren't enough, he hasn't allowed a run in any of his last three outings.  Yowza!  For those of you keeping score at home, Hanson just became the first Braves rookie pitcher to ever hold his opponents scoreless in each of three consecutive starts.  Ever! How about that?  How about this?  Hanson extended his streak of scoreless innings to 20, the longest for a Braves rookie starter since the imitable Pete Smith in 1988.  Wait, there's more.  Hanson is the second Braves pitcher since 1900 to post a record of 4-0 or better over his first five games in the majors.  The other was Larry McWilliams in 1978.  Tommy Hanson:  The stuff  legends are made.  
Peace out homies.  Six two and Even!
Need More? Atlanta Braves,MLB,Tommy Hanson