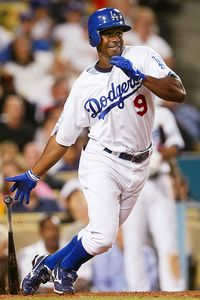 I ain't missing you at all since you've been gone away.  I ain't missing you, no matter what my friends say.  -John Waite
Public Service Announcement:  Ok, here we go!  True blue Dodgers fans may be pissed at Manny Ramirez.  Joe Torre may call it a disappointment.  But I'll show you one cat who ain't upset.  I'll show you one cat who's flying high as a jet.  One cat whose life is now as sweet as a crepe Suzette.  That one cat is Juan Pierre.  Last night, Juan Pierre had three hits in the Dodgers' win over the Rockies.  Pierre is hitting .422 since Manny's suspension began on May 7. Only two National League players have a higher batting average than Pierre over that span.  Only Miguel Tejada and Casey Blake.   Maybe Manny should give up his All Star spot to Juan Pierre.  Just saying.
Peace out homies.  Six two and Even!
Need More? Juan Pierre,Los Angeles Angels,Manny Ramirez,MLB