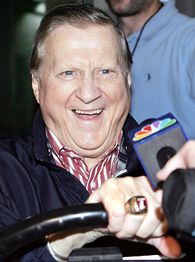 Terrorizing suckers on the seven seas; and if you've got beef, you'll get capped in the knees.  -Beastie Boys
Public Service Announcement: Ok, here we go!  Remember Tonya Harding?  Figure skater Tonya Harding?  The queen of the triple axel?  Remember her?  Remember she became infamous after she and her ex-husband Jeff Gillooly conspired to attack Nancy Kerrigan and bust up her knee?  Remember that?  Sure you do.  That was a good story.  This is a better story.  Apparently, according to the NY Post, it was none other than George Steinbrenner who sponsored the hit.  Yup, that George Steinbrenner.    
In Peter Golenbock's new book George, the author asserts, "the Boss generously supported young Olympians like swimmer Ron Karnaugh and figure skaters Nicole Bobek and Tonya Harding."  It seems the money George gave to "support" Harding was used to pay for the hit on poor old Nancy Kerrigan.  Yowza!  Glolenbock says, "When George heard that, he wanted to hunt down Harding and get his money back."  George says he has no recollection of any of this.  I say, any Yankees misery will always get my company.
Public Spectacle:
Peace out homies. Six two and Even!
Need More? George Steinbrenner,MLB,New York Yankees