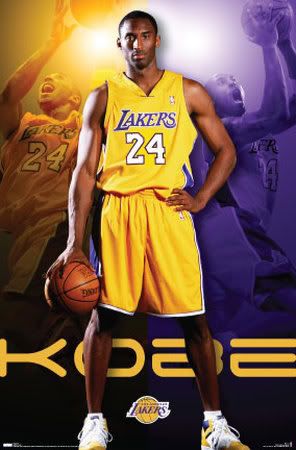 So come y'all and attend this affair as we journey to the Promised Land, and I'll take you there.  Yes, I'll take you there.  -Big Daddy Kane
Public Service Announcement:  Ok, here we go!  I know I'm not the only one writing about Kobe Bean Bryant today.  Not the lonely one writing about Kobe Bean Bryant today.  Not the eau de cologney one.  I don't care.  Neither does Kobe.  What does he care that Andrew Bynum is out.  Yes Virginia, over the ten days prior to sustaining the injury Bynum ranked among the NBA leaders in rebounds per game (tied for lead), points per game (4th), field-goal percentage (5th), and blocked shots (3rd), but did you see the Mamba last night?  Sweet sassy molassy!    
Last night, Kobe just lit up the Knicks at this edition of Madison Square Garden.  Ben Gordon better call Kobe immediately and officially turn his nickname.  Last night at the World's Most Famous Arena, Kobe lit it up for sixty-one.  Nobody, and I mean nobody has ever scored that many there.  Wilt and Elgin Baylor did it at the old Garden, but nobody's done it done at the new one.  How about that?
How about this?  Kobe scored his sixty-one points in thirty-seven minutes of action.  In thirty-seven minutes of satisfaction.  Thirty-seven minutes of on the attacktion.  Big deal you say?  Who cares you say?  I say only three other players have scored sixty plus points in a game while playing less than forty minutes.  I say only Jerry West, George Gervin and Kobe's boy Karl Malone.  Hey, cowboy, what are you hunting?  Kobe's hunting for a title.  Andrew Bynum or no Andrew Bynum.
Kobe scored from everywhere last night.   From his first pull-up jumper forty-four seconds into the game you knew this was going to be Kobe's night.  Quentin Richardson knew it too.  So did Jared Jefferies.  So did Wilson Chandler.  So did any other Knickerbocker who had the miserable task of trying to guard Kobe Wan.  The force was most definitely with him.
It was with him at the charity stripe.  Kobe went twenty for twenty at the charity stripe.  Know this Kobeophiles and haters alike, only three other players in NBA history attempted at least twenty free throws in a regular-season game and made all of them.  Only Dominique, Rip Hamilton and Amar'e Stoudemire.  That's it.  That's the list.
So while Lakers fans everywhere are worrying about the loss of Andrew Bynum, Kobe ain't.  Kobe's Alfred E. Neuman.  Kobe's taking matters into his own hands.  Like my main Cedric Maxwell always says, "Climb on my back, boys."
Public Spectacle:  (Thanks NESW Sports)
Peace out homies.  Six two and Even!
Need More? Kobe Bryant,Los Angeles Lakers,NBA