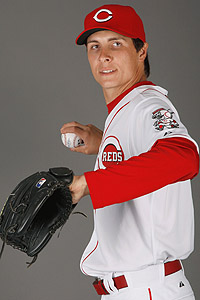 Don't you forget about me.  I'll be alone, dancing, you know it baby.  Going to take you apart.  -Simple Minds
Public Service Announcement:  Ok, here we go!  Remember this guy?  Remember Homer Bailey?  Sure you do.  You remember he was the Reds top pitching prospect and their No. 1 pick in the June 2004 draft.  You remember Baseball America voted him the Best Pitching Prospect and Best Fastball in the Florida State League.  You also remember while up in the bigs, his control was so eratic he ultimately got sent back down to the farm.  Well, Homer don't want to work on Maggie's farm no more.  He's tearing it up.  Yesterday, Bailey retired all six of his batters with three strikeouts.  He threw 23 pitches in his two innings of work.  Hard work.  Hooray Homer!  When he's at his best, Bailey's fastball can be electric.  Boogie oogie oogie.  When he's at his best, Bailey consistently pumps 95, 96, and 97 mph cheese by hitters.  He just may be pumping that cheese again soon in a big league ballpark near you.
Peace out homies.  Six two and Even!