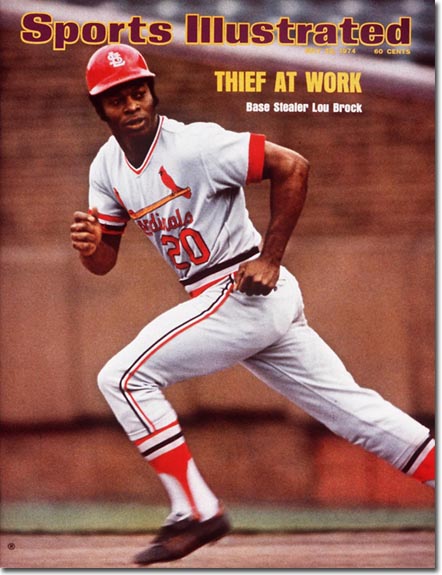 Okay, if knowledge is the key then just show me the lock. Got the scrawny legs but I move just like Lou Brock. With speed, I'm agile plus I'm worth your while. One hundred percent intelligent black child. -Tribe Called Quest
Here it comes.  Here comes baseball.  Like my main man Joe DiMaggio always says:  "You look forward to it like a birthday party when you're a kid.  You think something wonderful is going to happen."  I'm looking forward to it.  I think something wonderful is going to happen.  I live for this!  What's crack-a-lacking sports fans?  I loved Lou Brock.  Put you in shock.  Stealing bases around the clock.  A virtuoso like my main man Johan Sebastian Bach.  I loved Willie Wilson.  Looking good in those baby blues.  Faster than Deja Vu.  Quicker than any cheetah in any zoo.   I loved Rickey Henderson.  Probably the best lead-off hitter I've ever seen.  The best base stealer there's ever been.  I loved Tommy Harper, Rock Raines, Firecracker Vince Coleman.  I loved them all, they're the stolen base kings of the game we call baseball.  Joe Morgan once said:  "A good base stealer should make the whole infield jumpy."   So that's what we want to know.  Who in 2011 makes the whole infield jumpy?        
Carl Crawford
There's only one thing you gotta know about Carl Crawford, he's an ath-uh-lete.  Recruited by UCLA to play point guard.  Recruited by Nebraska to play quarterback.  Carl Crawford chose baseball and aren't we all glad he did?  He's a sight to behold.  Last year, against my beloved Red Sox, he was a record tying sight to behold.  As he slid into second at the Trop, he slid into a tie for the modern major league record with six stolen bases in one game.  Now, he's playing for my beloved Red Sox.  Hooray Red Sox!  Hooray Carl Crawford!  Carl Crawford has always been the most potent stolen base threat in baseball, but now that he is in Boston, it would be no surprise to see his stolen base totals climb.   It would be no surprise to see him steal over 50 bases this year.   I've always said if Carl Crawford landed on big market team he would someday win an MVP Award.  Today just might be that day.
Michael Bourn
Meet the new king.  Same as the old king.  Two years ago, Michael Bourn led all of baseball in stolen bases. Last year, Michael Bourn led all the National League in stolen bases. This season, expect more of the same.  This kid got game.  Say his name!  The only reason Michael Bourn made it to the bigs is his base-stealing prowess.  At the University of Houston, he displayed little power, but won attention from professional scouts by stealing 90 bases in 119 attempts.  90 bases in 110 attempts!  Yowza!  He hasn't slowed down since.  He surely ain't gonna slow down this year…and don't call me Shirley.  Last year, the Astros were the worst in the National League against lefthanded pitching.  Last year, the Astros were the worst in the National League against righthanded pitching.  Since Houston's heart of the line-up present major concerns, they are going to need to manufacture runs any way they can.  That means Michael Bourn.  That means Michael Bourn stealing the most bases of his career.
Rajai Davis
I hate to do this.  I hate to compare anybody to Rickey Henderson.  Rickey was the best lead off batter we've ever seen.  He was the best leadoff hitter that there's ever been.  The best thing since the automated teller machine.  But this Rajai Davis character has got some pop at the top of the Blue Jays order.  This spring he has already knocked three bombs at the top of the Blue Jays order.  Knock knock.  Who's there?  Rajai Davis bitch!  I know he has yet to steal a base in preseason but fear thee not, he will still some bases during the regular season.  He will steal a lot of bases during the regular season.  Davis:  "Well, stolen bases, they come more natural for me.  For me, spring training isn't getting ready for stealing bases.  I have a good idea of what I want to do out there as far as stolen bases."  He certainly does.  With the Giants, Davis was second among the National League rookie in stolen bases with 22.  The leader, Arizona's Chris Young, had 27—but he had nearly three times as many at-bats as Davis.  In three seasons with Oakland, Davis stole 25, 41 and 50 bases.  Now with the Blue Jays, he will be a demon on the bases again in 2011.  Yes like Speed racer, he's a demon and he's gonna be chasin' after someone. That someone just may be Rickey Henderson.
Juan Pierre
When the Dodgers traded Juan Pierre to the Chicago White Sox, the Go-Go Sox got the leadoff man they needed and Juan Pierre got the chance to be an everyday player again.  Hooray Juan Pierre!  Juan responded by stealing 68 bases and reclaiming his Major League stolen base crown.  Pierre is a former two-time National League champ.  Get the papers, get the papers.   He also has the most stolen bases of any active player.  In 2008, when Pierre stole his 100th base with the Dodgers, he became only one of four players in MLB history to steal at least a hundred bases with three different teams.  With the White Sox, you can make that four different teams.  With six you get eggroll.  With Juan Pierre you get one base stealing summamabitch.
Jacoby Ellsbury
What?  Two Red Sox on one list.  Back before World War I, back in the days of Tris Speaker, the Red Sox stole bases at every opportunity.  But then, in later years, the Tom Yawkey years, Boston played nothing but station-to-station baseball.  In 1964, the Red Sox stole just 18 bases as a team, well less than half as many as Baltimore's Luis Aparicio stole all by his little old self.  Things remained that way for quite some time.  They remained that way until the arrival of one Jacoby Ellsbury.  Jacoby Ellsbury ushered in a new style of Red Sox baseball.  And on the cool check in, center stage on the mic and we're puttin' it on wax.  It's the new style!  It's Jacoby Ellsbury.  Attention please, ladies and gentlemen, boys and girls, welcome to Fenway Park.  Now leading off, Ellsbury, center field, Ellsbury.  Only twice in the last 35 years have the Red Sox stolen at least 100 bases as a team, and both of those have been Ellsbury-spearheaded efforts.  When Ellsbury stole a team-record 70 bases in 2009, the Red Sox stole 126 as a team; their highest number since 1916.  Now with Ellsbury and Crawford?  Good night Irene!
Peace out homies. Six two and even!
Need More? Boston Red Sox,Carl Crawford,Chicago White Sox,Houston Astros,Jacoby Ellsbury,Juan Pierre,Michael Bourn,MLB,Rajai Davis,Toronto Blue Jays