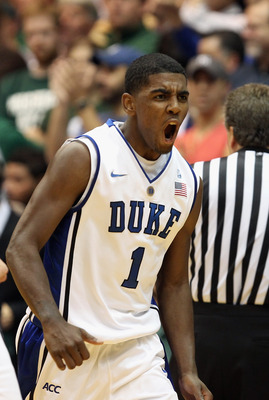 Point blank, shot between the eyes.  Point blank, like little white lies you tell to ease the pain.  You're walkin' in the sights, girl, of point blank; and it's one false move and baby the lights go out.  -Bruce Springsteen
Word out of Durham is that Duke freshman phenom Kyrie Irving is practicing with the team.  Like Jimmy Conway, Blue Devils coach Mike Krzyzewski said Irving practiced "a little bit."  No, no, no, no, no.  You insulted him a little bit.  You got a little bit out of order yourself.  Wanna know what else Coach K said?  Huh?  Do ya?  Coach K also said, "There is a chance that he would play."  Yowza yowza yowza!  No gnews may be good gnews with Gary Gnu, but for Duke fans, this is great gnews.  I know Irving hasn't donned a uniform since he hurt his right big toe in the first week of December.  I know ACC Player of the Year Nolan Smith has filled the point guard role admirably.  Admirably Horatio Nelson.  Admirably Jack Fletcher.  Admirably David Farragut.  I know, but like Farragut done did say himself, "Damn the torpedoes, full speed ahead!"  Full speed ahead with Kyrie Irving.         
This is a Duke team that was already the No. 1 seed in the West regional without Irving.  This is a Duke team that is fresh off its third straight ACC tournament title without Irving.  A Duke team Krzyzewski said got better this week in Greensboro without Irving.  With Irving?  Katie bar the door!
Kyrie Irving is a difference maker.  A Shake and baker.  A Takes the caker.  With him on the floor in the NCCA Tournament, Duke should take their cake and eat it too.  Irving was one of the nation's elite players over the first eight games of the season.  Irving s the front-runner to be taken with the No. 1 overall pick in June's NBA draft.  Irving here's got a job. Irving's got prospects.  He's bona fide.  What are you?  If you're anybody playing the Dukies with Kyrie Irving running the point, you're shot out of luck.  That's what you are.
In the NCAA Tournament, point guard play is vital.  You need that player who can distribute the rock and get the ball to key people at the right time in good position.  Irving, before the injury, was averaging almost six dimes a game.  You need a guy on the perimeter who can stop the ball on defense, putting pressure on opponents while creating havoc.  Irving, before the injury, held Kansas State star Jacob Pullen to a season-low four points on 1-of-12 shooting in Duke's thrashing of the Wildcats.  He's a playmaker and scorer, a coveted point guard who can simply take over ball games.  If he does play in this here tourney, expect him to take over about six ball games.
Peace out homies. Six two and even!
Need More? Duke,Kyrie Irving,NCAA,NCAA BB