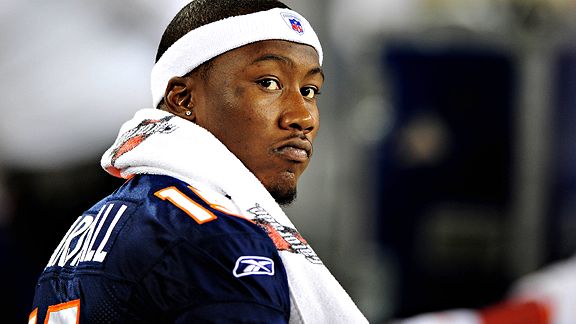 Working my way back to you babe, with a burning love inside.  Yeah, I'm working my way back to you babe, with a happiness that died.  I let it get away, paying every day.  -Frankie Valli and the Four Seasons
Public Service Announcement:  Ok, here we go!  Say what you want about Brandon Marshall.  You can say he lolly-gags the ball around the practice field.  You can say he lolly-gags his way down the sideline.  You can say he lolly-gags in and out of the training room.   You can say that makes him a lolly-gagger.  I say, at least he's in camp.  Here are some guys who weren't:
Bo Jackson:  Like my main man Q-Tip always says, "Yo, Bo knows this and Bo knows that but Bo don't know jack, cause Bo can't rap."  One thing Bo does know is holdouts.  Back in 1986, there was no free agency.  Back in 1986, draft choices either had to accept team offers or hold out.  Bo held out.  If you remember, Bo was drafted by the Tampa Bay Buccaneers.  Quick joke.  Kid on Halloween dressed as a pirate.  Guy says to him, "Hey kid, where are your buccaneers?"  Kid answers, 'Under my bucken hat."  Sorry I digress.  Bo was drafted by Tampa Bay but didn't like the five-year deal that was offered to him so he ended up spending his first pro September in a Kansas City Royals uniform instead of a Tampa Bay Bucs uniform.
Eric Dickerson:  Mr. Fourth Quarter thought holdouts were so nice, he held out twice.  In 1984, he rushed for 2,105 yards for the Rams.  In 1985, he held out two games into the season.  Not to be outdone by himself, in 1987, he walked out on the Rams despite having a contract.  Nobody likes a malcontent.  The 1987 holdout led to one of the biggest trades in NFL history involving four players, three teams and six draft choices. 
Carl Pickens:  Before there was Chad Ochocinco in Cincinnati, there was Carl Pickens in Cincinnati.  Pickens hated playing for the Bengals.  Bengals management hated that Pickens talked so much about hating playing for the Bengals.  The result?  A 41-day holdout that ended up with Pickens signing a five-year, $23.25 million contract even though he said he would never play for the Bengals again.  How about that?  How about this?  The following year, Pickens started yapping again and was ultimately traded to the Titans.  Pickens' constant verbal abuse of the organization was so bad the Brown family put language in future contracts to make players pay penalties if they talked such talk.
Keith Jackson:  In 1995 the Dolphins didn't believe Keith would sit out the season.  In 1995, Keith held out 91 days until the Packers pulled off a trade near the October trade deadline.  The following year, Jackson helped establish the Packers as a Super Bowl power once again. 
Sean Gilbert:  In 1997 Sean Gilbert sat out the entire season.  The entire season!  At one point in his career, folks thought Gilbert had the raw talent to become one of the best defensive tackles in football.  He made the Pro Bowl when he was only 23.  He played one season for Washington in '96 and held out in '97.  During his hold out, he became a minister.  The Panthers ended up giving him one of the biggest defensive line contracts in NFL history in 1998, but he never lived up to the billing on the field in Carolina.  At least he had God.
Public Spectacle: 
Peace out homies.  Six two and Even!
Need More? Brandon Marshall,Denver Broncos,NFL