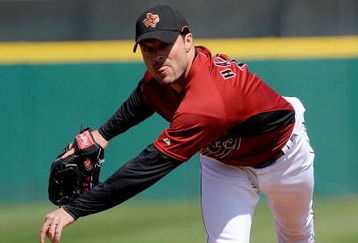 I'm down with Mike H. and it ain't no hassle.  Got the ladies of the eighties from here to White Castle.  Hold it now, hold it now,  hit it!  -Beastie Boys
Public Service Announcement:  Ok, here we go!  Mickey Mantle once said, "Somebody once asked me if I ever went up to the plate trying to hit a home run.  'I said, 'Sure, every time."'  Now, Mike Hampton may not be trying to hit a home run every time, but he sure does hit his fair share.   
Mike Hampton has not always had a power stroke.  He did not go yard in his first 375 at-bats in the major leagues.  But make no mistakes, since then, Mike Hampton has earned his reputation as a good hitting pitcher.  Like Micah Owings.  Like Carlos Zambrano.  Like Dontrelle Willis.  Like those guys there.  In 1999 he batted .311.  In 2001, while with the Colorado Rockies, he hit .291 with 7 bombs.  The following year he hit 3 bombs and batted .344.  From 1999-2003, Hampton would go on to win 5 consecutive Silver Slugger Awards.  How about that? 
How about this?  Last night, in his win over the Mets, Hampton hit a two-run jack in the fourth inning.  A two run crackety-crack in the fourth inning.  A two run back…back…back in the fourth inning.  That cracker-jack was Hampton's 16th career jack.  That jack gives Hampton the second-most jacks among active pitchers.  Only Big Z's 19 is ahead of him. 
Just one more fun fact for y'all.  In 2003, Hampton became the first pitcher ever to win the Gold Glove Award and Silver Slugger awards in the same season.  Football coach Bear Bryant once brought USC running back Sam Bam Cunningham into the Alabama locker room after a game and told his players,  "This is what a football player looks like."  Well, take a look at the picture above.  That my friends, is what a baseball player looks like.
Public Spectacle:
Peace out homies.  Six two and Even!
Need More? Houston Astros,Mike Hampton,MLB