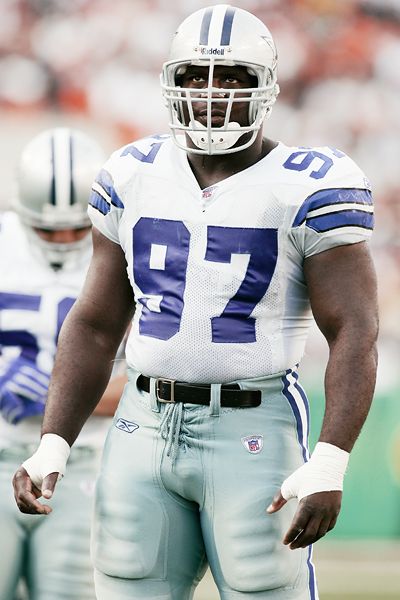 Happy trails to you, until we meet again.  Happy trails to you,
keep smilin' until then.  -Roy Rogers
Public Service Announcement:  Ok, here we go!  We all know what happened with Lucas Glover.  We all know Lucas, a man who had won only once in his six seasons on the PGA Tour, won the US Open yesterday.  We all know he won on the 16th hole with his best drive of the day and a birdie to show for it.  We all know it was then and there he stole victory from the jaws of defeat.  Stole victory from the jaws of one Mr. Phil Mickelson.  We all know about that guy.  It's the other guy I'm talking about.  Like my main man Quint always says, "I'm not talkin' about pleasure boatin' or day sailin'.  I'm talkin' about workin' for a livin'.  I'm talkin' about sharkin'."  No, I'm not talking about golf.  I'm talking about working for a living.  I'm talking about football.  NFL football.  I'm talking about La'Roi Glover.    
Yes sports fans, on the same day that Lucas Glover won the U.S. Open, La'Roi Glover announced his professional football career was over.  So sad.  La'Roi retired from the NFL ending a spectacular 13-year career highlighted by six consecutive seasons in which he was selected to the Pro Bowl (2000-2005).  That's a pretty good run.  Pretty, pretty, pretty, pretty good. 
How good a run was it?  I'm glad you asked.  Glover was a fifth-round pick by the Raiders in 1996.  Over the past twenty-five years, the only other defensive player drafted in the fifth round or later to earn six or more straight Pro Bowl berths was John Randle.  That's it.  That's the list.  Randle, who was never drafted, made seven Pro Bowls, including a six-year run from 1993 through 1998. 
One season, in New Orleans, as a tackle, he notched an NFL-best seventeen sacks.  As a tackle!  Yowza!  Only Minnesota's Keith Millard has had more sacks in a season from an interior line position.  From 1998 through 2000, only two players had more sacks than Glover.  After playing fifteen games in 1997, Glover played in all sixteen games each of the past eleven seasons.  Not bad for a former waiver-wire castoff and NFL Europe League All-Star.  Not bad at all.
So while everybody's hooting and hollering about Lucas Glover, I'll be missing a Glover from another mother.  I'll be missing the guy longtime NFL defensive line coach Walt Corey said was "an All-Pro in all situations."  I'll be missing La'Roi Glover.
Public Spectacle:
Peace out homies.  Six two and Even!
Need More? La'Roi Glover,NFL,St. Louis Rams