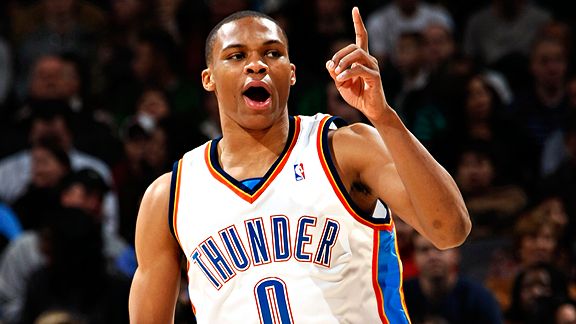 Thunder 96  Mavericks 87:  Rookie rookie who gets the cookie?  Russell, that's who.  Russell's the big winner.  Russell wins.  Last night, Russell Westbrook had a triple-double.  Triple trouble.  Last night Russell Westbrook became the first NBA rookie to earn a triple-double since Chris Paul had two in the 2005-06 season.  How about that?  How about this?   Only two other rookies in Oklahoma City/Seattle franchise history had triple-doubles.  Only Art Harris in 1968-69 and only Gary Payton in 1990-91.  Now go pick up my laundry, rook.
Hawks 98  Wizards 89:  Giving me a bad name.  Josh Smith.  J-Schmoove.  We here at JQP Productions love the guy.  We love his name.  Josh.  Cool name.  The guy with the cool name missed his first two free-throw attempts before making one last night.  That made ten consecutive free throw attempts for the guy with the cool name.  That matched another guy with a cool name for the longest such streak this season.  That matched New Jersey's Josh Boone for the longest such streak this season.  Knock it guys, you're killing me.
Islanders 4  Avalanche 2:  Well it's about time, Bruno.  Its been 160 games since the Islanders' Bruno Gervais scored his last goal.  That had been the second-longest current goalless streak among active NHL players.  Lucky he got that goal too.  Had he not, Gervais would have tied Minnesota goon Derek Boogaard for the longest current drought.  Nobody wants to be tied with a goon. 
Peace out homies.  Six two and Even!
Need More? Atalnta Hawks,Bruno Gervais,Josh Smith,NBA,New York Islanders,NHL,Oklahoma City Thunder,Russell Westbrook