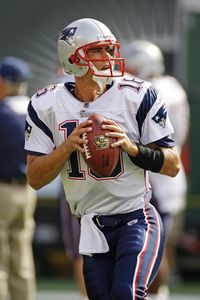 Happy trails to you, until we meet again.  Happy trails to you, keep smilin' until then.  -Roy Rogers

Public Service Announcement:  Ok, here we go!  You knew this was coming.  You knew with a healthy Tom Brady, Matt Cassel was going to become expendable.  Money to spendable.  To the Kansas City Chiefs he is sendable.  Yes sports fans, according to Peter King, the New England Patriots have traded quarterback Matt Cassel and linebacker Mike Vrabel to Kansas City for the Chiefs' second-round pick in the 2009 draft.  I am not going to get into the merits of this trade.  There's plenty of time for that.  No, I am going to get into the merits of one Mister Matt Cassel.    
When Tom Brady went down in the first game of the season last year, I gave up hope.  I thought all was lost.  I thought you said are all right spider.  I thought wrong.  Matt Cassel who had never started a significant game since graduating high school, proved me wrong.  He proved us all wrong.  Like my main man Randy Moss always says, "Haters keep hating, we're coming! "
Matt Cassel came all right.  Came hard, his calling card.  Came calling with back to back 400-yard games.  Only the fifth player in NFL history to throw for 400-or-more yards in each of back-to-back games.  Yowza!  The other quarterbacks to do that were Dan Fouts, Dan Marino, Phil Simms and Billy Volek.  But they didn't do what Mighty Matt Cassel done did.  They didn't do it in two big games.  Two important games.  They didn't do it in two big, important games against division opponents.  Mighty Matt Cassel did.
Mighty Matt Cassel might not have the arm of Tom Terrific.  When there is trouble, he's there on the double.  From Atlantic to Pacific, they know Tom Terrific!  Mighty Matt Cassel may not have the legs of Steve Grogan.  Thirty-five career rushing touchdowns Steve Grogan.  But, put them together and whaddyagot?  You got Mighty Matt Cassel.  Last season, Cassel became only the second player in the last six seasons to run for a touchdown and throw for 400-or-more yards in the same game.  How about that?
None of that was as good as this.  When Matt Cassel's father passed away, a few days later, Cassel threw for a career-high four scores. Threw for three in the first half.  The rootinest tootenist cowboy in a shootout with the Oakland Raiders.  I never met Matt Cassel's father, but I once heard Brett Favre say this after death of his own father: "I knew that my dad would have wanted me to play."  Play Matt Cassel did. 
Bill Belichick: "I can't say enough about Matt Cassel.  He carried us a long way today.  It was a tough situation for him, and he met the challenge." I can't say enough about Matt Cassel either. Soon it will be Chief fans who can't say enough.  Goodbye Matt, we hardly knew ya.
Public Spectacle:
Peace out homies.  Six two and Even!
Need More? Kansas City Chiefs,Matt Cassel,New England Patriots,NFL