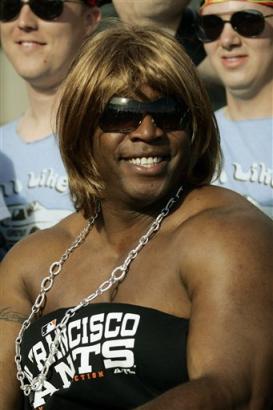 Well, I'm not dumb but I can't understand, why she walked like a woman and talked like a man, oh my Lola.  Lo-lo-lo-lo lola.  -The Kinks
Public Service Announcement: Ok, here we go!  Suddenly the crystal ball is becoming crystal clear.  Suddenly Susan.  Suddenly Barry Bonds.  The picture to my left has been haunting many of our dreams for a while now.  And I haven't seen a smile that pretty in a while now.  But now I get it.  I clearly don't like it.  Get it, clearly?   I get it, but I don't like it.  According to the SF Chronicle, former Giants slugger Barry Lamar Bonds used a female fertility drug that can help beat steroid tests.  Like the silver haired old ladies say down at St. Mary's, Bingo!    
Yesterday, it was the best pitcher of our lifetimes.  Yesterday all our troubles seemed far away.  Today it's the best hitter we've ever seen.  Maybe the best hitter there's ever been.  Too bad he was using more than just Afrosheen. 
In more than 200 pages of documents unsealed in U.S. District Court in San Francisco, prosecutors laid out a blueprint for the case they hope to present to a jury next month in Bonds' trial on perjury and obstruction of justice charges.  A case that will probably send Barry away.  Like they sent Marion Jones away.  Like they're gonna send Rocket Roger away. 
All I can say is, Barry, if you are going to jail, and you're still on those fertility pills, now may be a good time to get off of them.  You don't want to end up like this guy.
Public Spectacle:
Peace out homies. Six two and Even!
Need More? Barry Bonds,MLB,San Francisco Giants,Steroids